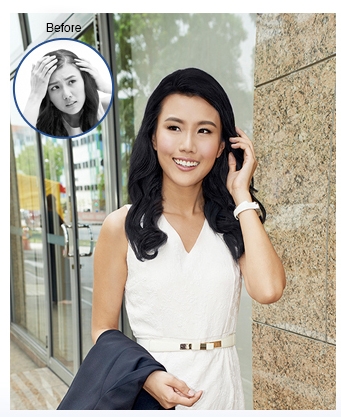 Ms Stephanie Oliveiro, 27, Insurance Agent
"The treatment delivers amazing results! I now have a fuller, more nourished head of hair thanks to TrichoKare!"
Stephanie sought help from TrichoKare as she was troubled with greying and thinning hair. As an Insurance Agent, she needs to maintain her image to display a high level of professionalism. She had tried to rectify the situation herself but had a hard time returning her hair to its once healthy appearance. Eventually, she realised how severe the problem was when her hair got so thin that she could see her scalp in the mirror.
Through a consultation and scalp analysis, our Trichologists found that Stephanie suffered from scalp greasiness and hairline thinning. Stress was a major contributing factor for her, and this accelerated the greying process.
TrichoKare employed a scalp detox treatment for Stephanie that cleansed the excess oil on her scalp, massaging it to improve circulation and promote active pigmentation to prevent premature greying hair.
After several treatments, her hair condition had notable and visible improvements.