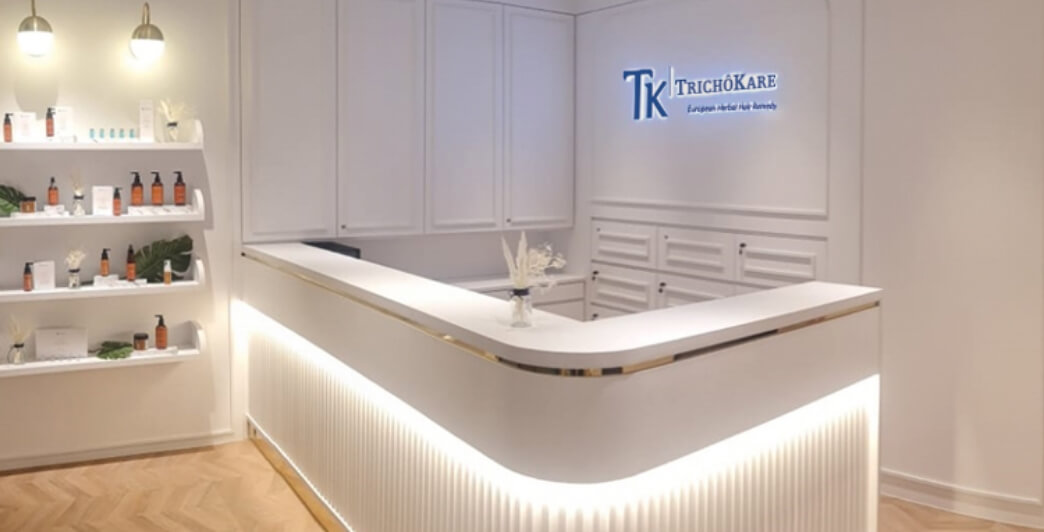 About TK Trichokare
Established in 2004, TK TrichoKare (pronounced as Try-ko-care) is the first and leading Trichological Centre that provides customised European Herbal Hair Remedies, validated by certified Trichologists, and products formulated by professional herbalists.
TrichoKare believes in the marriage of dietary nutrients from natural food sources, and carefully formulated treatments and products with premium-grade European herbs to achieve beautiful, thick, and lustrous locks that shine from inside out.
Dedicated to unceasing research and progress in its specialised field, TrichoKare strives to maintain as the first choice in improving hair and scalp conditions for sophisticated and discerning individuals; expanding its reach to enhance the image and confidence of more customers island wide.
Chain Of Specialised Hair Care Centre
As a local pioneer in the field with years of experience, Raynell started a chain of specialised hair care centre under the TK TrichoKare brand. Today, the multi-award-winning brand operates 5 outlets around the island with more than 50 hair and scalp specialists and therapists.
Expertise In Trichology
Founder of TrichoKare and Head Trichologist, Ms Raynell Zhang, strives to elevate professionalism in the hair and scalp care industry and solve all kinds of hair and scalp problems. Raynell is also the founding president of the International Society of Trichology.
Premium European Herbs
The treatment and products of TrichoKare are formulated with Premium European Herbs that are trusted by European herbalists for centuries. Some of the key ingredients include Burdock, Chamomile and Lavender which are known to possess beneficial effects on the hair and scalp.
Multiple Awards Winner
Since inception, TrichoKare has been consistently winning best in class awards for its range of treatments every year. These awards are accorded by renowned agencies and media including Her World, The Singapore Women's Weekly, Daily Vanity and Beauty Insider
Our Vision
To be the first choice for sophisticated individuals who want to improve their hair and scalp conditions.
Our Mission
To enhance our customers' image and confidence with trichological products and European Herbal Hair Remedy.
TK TrichoKare experience is enjoyable and pampering.
Award-Winning Hair Fall Prevention Treatment
FREE MaxiKare Ampoule(used during treatment), Hair Bath (Shampoo)(50ml), CompleteKare Mask (Conditioner)(50ml)
Book An Appointment
We'd love to hear from you! Send us a message and We will get back to you as soon as possible!